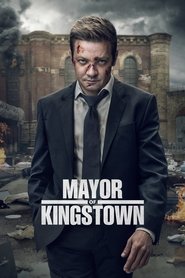 Mayor of Kingstown HD Online
In a small Michigan town where the business of incarceration is the only thriving industry, the McClusky family are the power brokers between the police, criminals, inmates, prison guards and politicians in a city completely dependent on prisons and the prisoners they contain.
---
Thank you for watching the series Mayor of Kingstown HD online full episodes on WatchSeries.Wiki
What stars have appeared in the movie "Mayor of Kingstown"?
The show starred: Aidan Gillen, Derek Webster, Dianne Wiest, Emma Laird, Hamish Allan-Headley, Hugh Dillon, Jeremy Renner, Nishi Munshi, Pha'rez Lass, Taylor Handley, Tobi Bamtefa.
How long is the movie Mayor of Kingstown?
The majority episodes have 50 min.
What TV studio made the series "Mayor of Kingstown"?
Here you can find the answerd: 101 Studios, Bosque Ranch Productions, MTV Entertainment Studios, Square Head Pictures.
On what network is aired Mayor of Kingstown?
This shows is aired first time on: Paramount+.
Will be a next season from Mayor of Kingstown?
The status of this great tv show is Returning Series.
Where can I watch the Trailer for the movie?
You can watch the trailer for the movie at the following link on YouTube
---